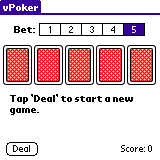 Awards:

Palm Boulevard

TUCOWS
vPoker pages around the world:
Enter your email address to get notified of new releases of this product:
(Your email address will be used for this purpose only)
vPoker v. 1.4
vPoker is a simple video poker game for the PalmOS platform.
The game is pretty self explanatory, so I haven't bothered writing a manual. (If I get enough ( >1000 ;-) ) requests, I might do it.)
It's not meant to be anything else than my first step into Palm programming, so please don't take it for more.
Try it, and if you like it, enjoy it.
BTW... It's freeware.
Features:
Support for Palm OS 5 high resolution
Color and greyscale support
Full face cards
Double or nothing
Game statistics
Highscores
Requirements:
PalmOS 2.0
25-154k free RAM
Time to kill
Download:
vPoker14.zip ( bytes )