Enter your email address to get notified of new releases of this product:
(Your email address will be used for this purpose only)
klok v. 1.0
klok is an analog clock running as a wharf module for Litestep. It was originally made for Codename 2, and later extended to work under Litestep and PureLS.
It works under PureLS (seems to be gone), Litestep and Codename 2 (link anyone?). It might work under DarkStep and other LS compatible shells, but I haven't tried it.
I got a mail from Jaykul, saying that klok also works in geoshell, and he even supplied a screenshot (see below).
klok is freeware - hope you like it.
Features:
Analog clock with hour, minute and second hands
Shows day of week, date, month and year
Highly configurable
Skinnable
Antialiased hands
Download:
klok.zip ( bytes )
Contributed Screenshots: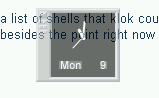 klok in Geoshell
by: Joel H. Bennett (aka Jaykul):
"here's a screen shot ... I placed it over this email as I was writting, and you'll see I'm using geoshell's built-in tranparency"